turbo tonik
Regular price

Sale price

$42.00
oil control toner
Looking for a powerful toner specifically designed for blemished, acne-prone, and oily skin?

Turbo tonik is here to save the day. With its targeted oil, blemish, and redness control formula, this toner is your ultimate skin savior. Packed with ingredients like oleanolic acid, malic acid and plant extracts, it effectively cleanses and purifies your skin, helping to combat blemishes and control excess oil. Plus, the soothing and hydrating benefits of comfrey root, hyaluronic acid, sea kelp algae, and bearberry ensure that your skin stays balanced and nourished.
Share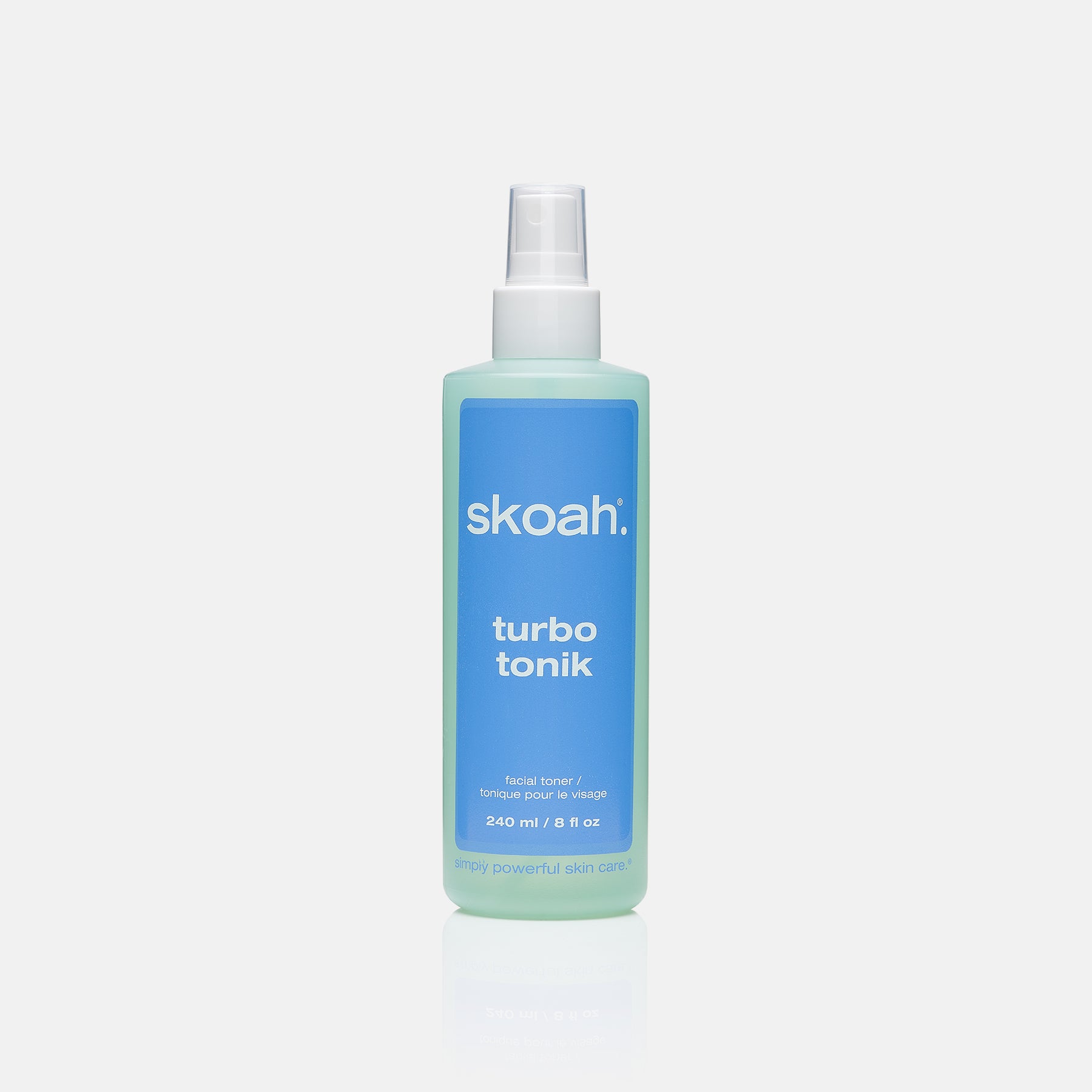 how to
Spritz the toner onto a cotton pad, then gently swipe the pad across your face, avoiding the eye area. Alternatively, mist the toner directly onto your face in a sweeping motion. Allow the toner to absorb into your skin for a few seconds, then proceed with your skincare routine. Always follow with sunscreen during the day.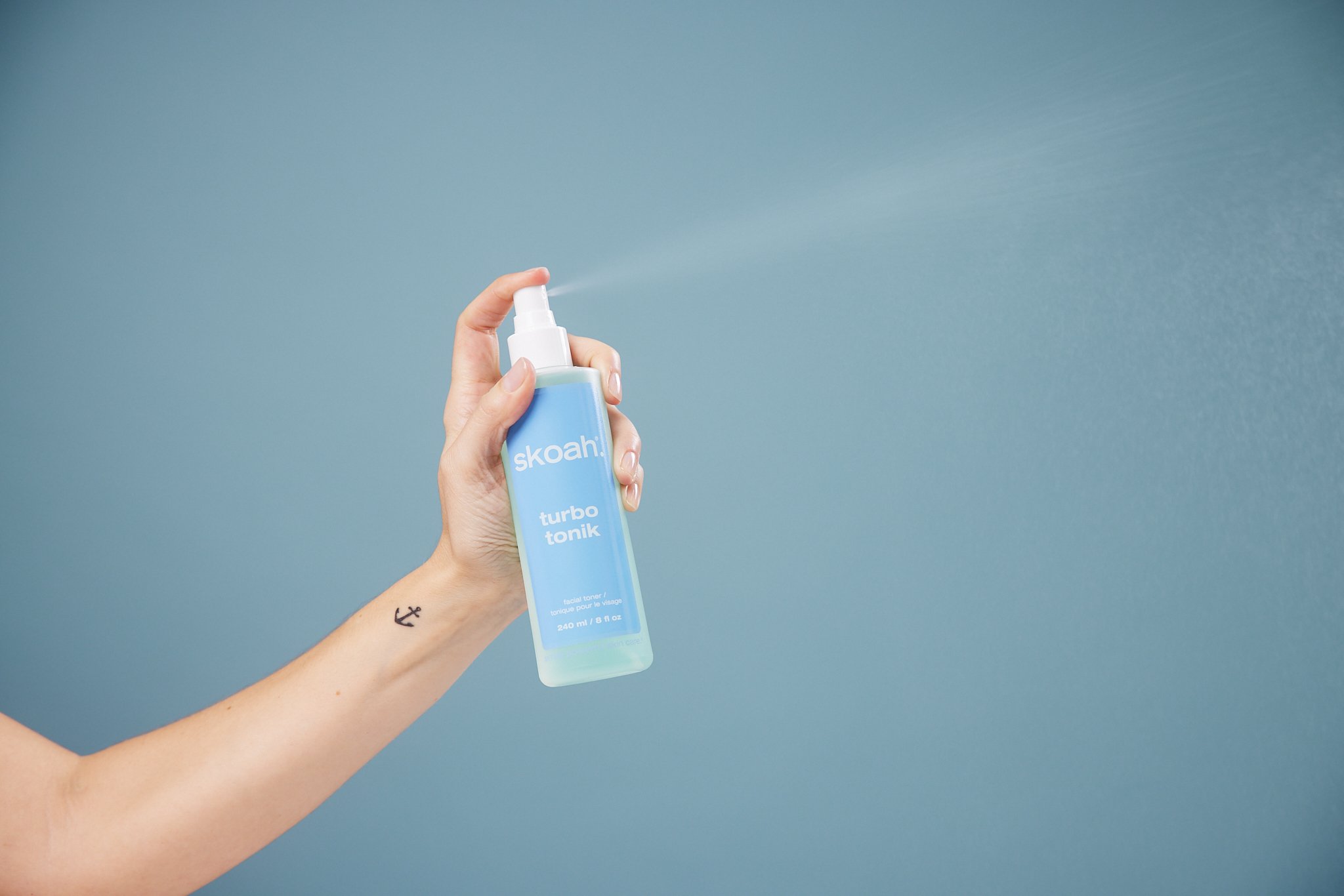 good for
blemishes, oiliness, & pores
benefits
soothing, hydrating, oil-control, & calming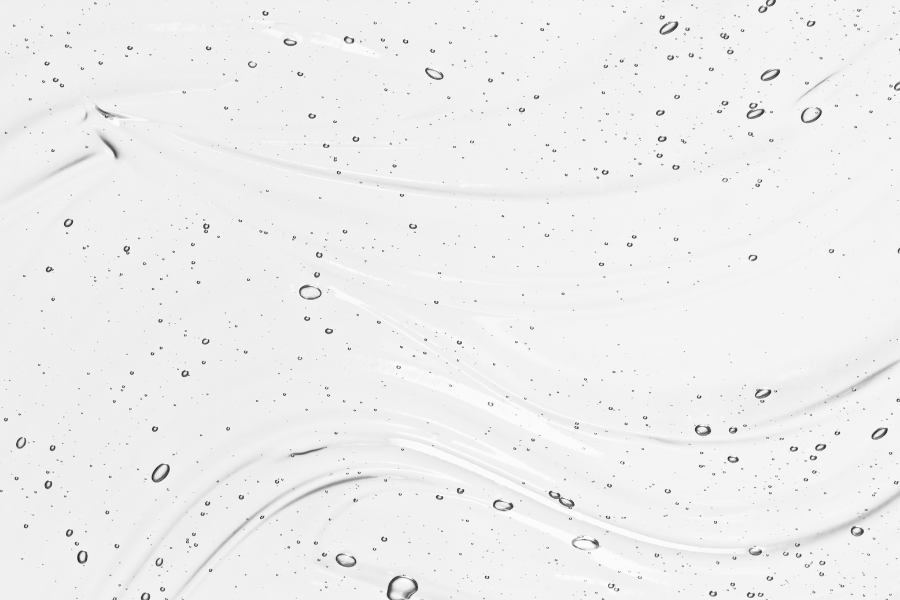 key ingredients
malic acid
Derived from fruits, particularly apples, malic acid is an alpha hydroxy acid (AHA) known for its exfoliating properties. It gently removes dead skin cells, revealing smoother and more radiant skin. This ingredient improves skin texture, reduces the appearance of fine lines and wrinkles, and evens out skin tone. Additionally, malic acid has antioxidant properties that protect the skin from free radicals and environmental stressors, promoting a healthier complexion.
oleanolic acid
With anti-inflammatory and antioxidant properties, oleanolic acid soothes and protects the skin from environmental damage. It regulates sebum production, minimizing enlarged pores and preventing breakouts. This ingredient promotes collagen synthesis, enhancing skin health and elasticity. Suitable for sensitive, oily, and acne-prone skin types.
sea kelp algae
A type of seaweed known for its moisturizing and nourishing properties. It is rich in vitamins and minerals, including iodine, which helps to improve the skin's overall health and appearance. Sea kelp algae has anti-inflammatory and anti-aging benefits and can help to protect the skin from environmental stressors such as pollution and UV radiation. Its has hydrating properties that can soothe dry and sensitive skin. Additionally, sea kelp algae can help to improve skin texture and tone by promoting cell turnover and collagen production.
view all ingredients

aqua, butylene glycol, peg-60 almond glycerides, caprylyl glycol, glycerin, propylene glycol alginate, allantoin, malic acid, sodium hyaluronate, nordihydroguaiaretic acid, oleanolic acid, arctostaphylos uva ursi leaf extract, arnica montana flower extract, echinacea purpurea extract, mimosa tenuiflora bark extract, calendula officinalis flower extract, tilia cordata flower extract, ginkgo biloba extract, hedera helix extract, avena sativa kernel extract, hypericum perforatum extract, camellia oleifera leaf extract, polysorbate 80, carbomer, diazolidinyl urea, iodopropynyl butylcarbamate, parfum/fragrance, sodium benzoate, sodium citrate, citric acid, sodium hydroxide, yellow 5, blue 1.

Note: Ingredients listed are based on the most current information available. Please refer to actual product packaging as formulations may change. If you have questions regarding a product or its ingredients, please contact us at feedback@skoah.com for more information.
works well with
boost your turbo tonik even more with these high performance skoah favourites!
designed with purpose. created with care.
We've delivered over 1 million facials in our facial shops over the past 20 years. Our product development starts in the treatment room, not the board room.
skoah products are high performance, plant based and just for you.
Learn more about our purity and quality guarantee.
learn more
Love it!
The turbo tonik is a must buy! It targets oil and blemishes to leave your skin feeling clean and fresh.
Gym locker must have!!
I adore this toner. I keep it in my gym locker and it is the perfect refreshing spritz after a sweat sesh and cleans my skin of bacteria so I don't have to keep my whole routine in my locker!
Perfect for sensitive skin prone to breakouts!
I've always been prone to acne due to oily skin, I used to use the Tonik toner from skoah and it was great at keeping my oil under control. Recently, due to a big change in hormones, my acne has never been worse and it feels like everything I use to treat it just irritates my skin, making it dry, red and angry :( I decided to try the Turbo Tonik and it has literally solved all my problems! It obviously can't stop my bumpiness altogether because it's a hormonal issue, but my oil production is totally under control (without making my skin flakey dry) and any redness I have after washing my face is calmed with a couple sprays of Turbo. I'm sold!!
My go to!
Literally my go-to toner when my skin is not having it's best time! My skin is pretty sensitive, and a lot of times I experienced clogged pores and small bumps all over the chin area. I like to use this toner when I have those issues and other products just aren't cutting it because it does calm and neutralize my problems! I know I can always rely on this toner because it has consistently helped my skin bounce back! I've noticed blemishes disappear faster with this and my skin looks more calm. I also spritz some after I rinse my face off after exercise to help everything stay in shape. I'm on my second bottle now and I'll always keep one on hand in the future!
reduced breakouts
I use this on my face, shoulders, chest and back. It has significantly reduced the amount of breakouts I get and their severity. I am fair skinned and find that the acne on my body really stands out. It makes me uncomfortable to wear clothes that show off my chest, back and shoulders. Since I started using this toner, I feel comfortable showing off my skin. When I do get a breakout, it is smaller than before and goes away much faster. I am buying another bottle of this product and I am going to explore more products in the brand!